1 Anello di Santo Stefano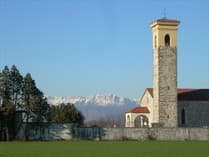 Route of 5.7 km, north-west of Remanzacco, non-hazardous, mostly on gravel road. Short clay.
You go to the church of Santo Stefano, cross the dirt road and continue between the cultivated fields. After a nice stretch it abruptly changes direction, heading north. Nice view of the mountains, perched on the ridge or hillside villages appear Porzus, Canebola, and Costalunga Valley. After a part clay bottom, you enter eastward along the bike path along the provincial town of Udine Stupizza Grions. Bear right at the crossroads and take the dirt road to the south pointing to the bell tower of Remanzacco.